Normalin Run
A downloadable game for Windows, macOS, and Linux
Normalin Run is a casual game made for people with a bondage fetish.
The main protagonist is Normalin: a college girl with blue hair that got into trouble during her vacation in a foreign country. Now she is chased by a group of very persistent kidnappers, and you have to help her escape.
Keep reading to find out more about the game.
The Game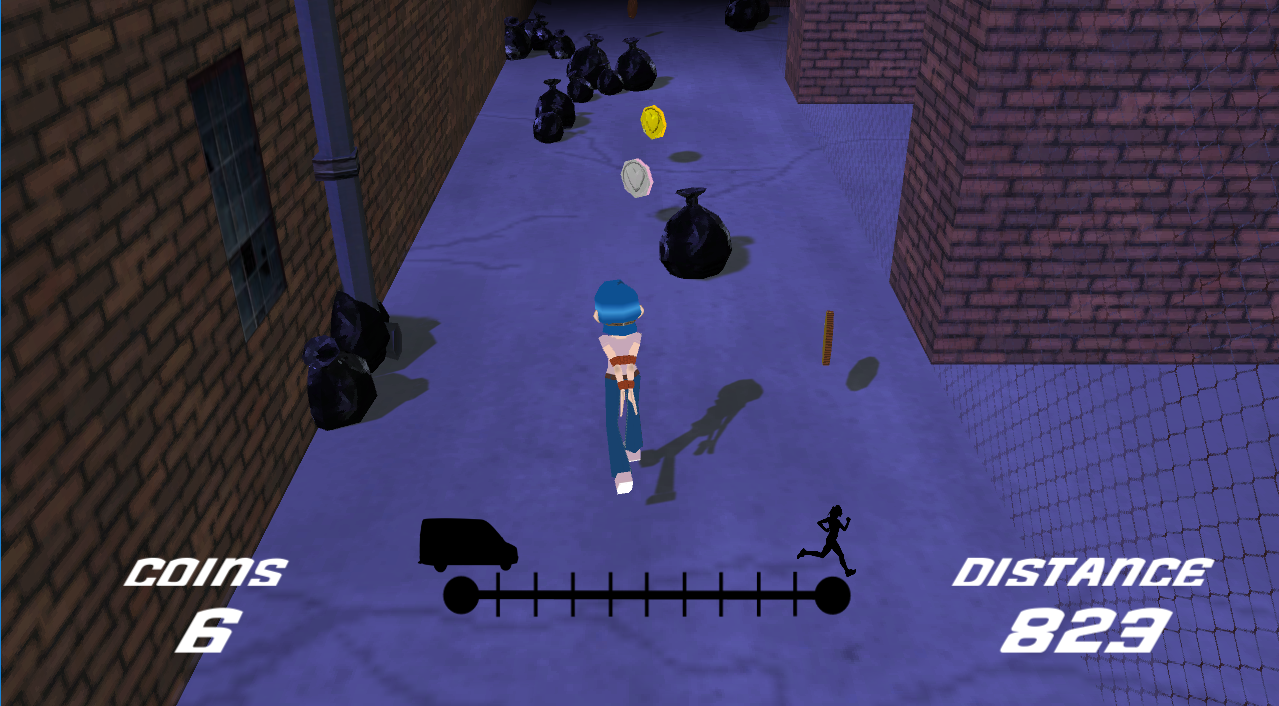 The main game takes place in a dark alleyway filled with discarded rubbish and other obstacles. You control Normalin as she runs, helping her avoid obstacles or slow down at times to avoid tripping and falling over.

Behind her is the kidnapers' van, and it never stops chasing you. Whenever Normalin stumbles over or loses speed, the van will catch up until eventually the baddies nab her.
During the level players can collect coins. These can be used to buy things at the shop (more on that later).

The goal is to reach the end of the level (this is not an endless runner). Doing so will double the amount of coins you have collected.

The Shop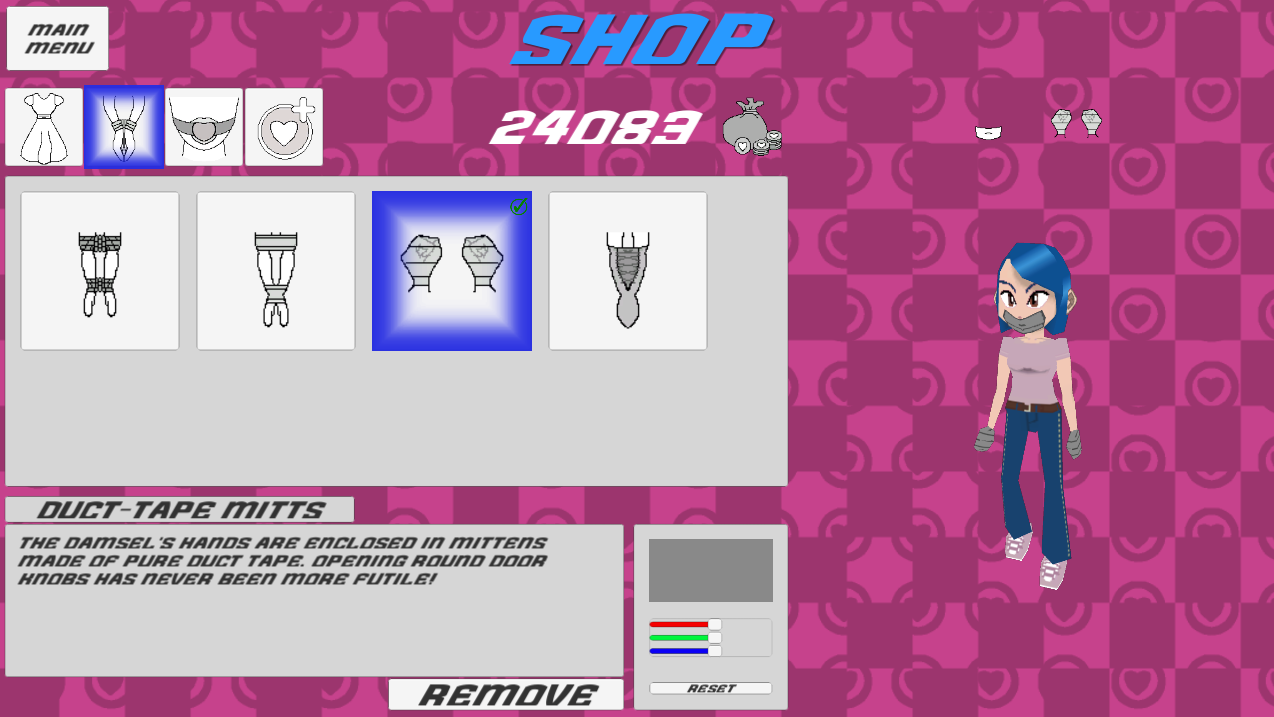 This is where the game shines. Like many mobile runner type games, there is a place where you can buy new characters and powerups. In this game you can purchase kinky outfits and accessories for the main protagonist (more clothing options coming soon).

There are 4 categories of items:

Outfits change the overall appearance of Normalin, for example a one-piece swimsuit.
Restraints bind Normalin's arms and wrists in various ways, such as rope, tape or even leather.
Gags silence or humiliate Normalin (or both). Either way they affect Normalin's grunts when she gets hurt.
And other items such as blindfolds that will alter the gameplay in some ways.
These items can be placed on Normalin, and are visible even as she runs through the main game! Items from different categories can be combined allowing users to create a custom look and to satisfy their kinks. Additionally: players can customize the main color of any item in the shop!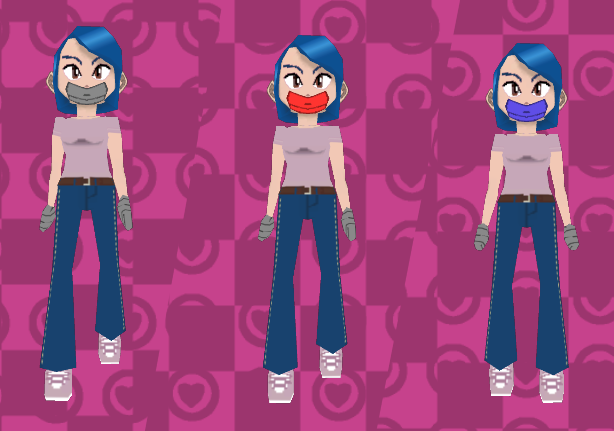 Coming Soon
You can download and play a free demo that gives a taste of the final product. But the final game is still in development, as we need to add more content and perhaps new features.
The final game will cost 3 dollars and the items featured will be much kinkier than the free demos.
Please leave a comment down below to express your opinion of the experience and to suggest any items you would wish to see in the final product. We are grateful for any bug reporting.

| | |
| --- | --- |
| Status | In development |
| Platforms | Windows, macOS, Linux |
| Rating | |
| Author | Ponti Kue |
| Made with | Unity, Blender, Audacity, Krita |
| Tags | 3D, bondage, bondage-fetish, Casual, damsel-in-distress, Female Protagonist, kinky, Runner |
| Average session | A few minutes |
| Languages | English |
| Inputs | Keyboard, Mouse |
Download demo
Comments
Log in with itch.io to leave a comment.
Is this project dead? Are you dead??
when will the next update be? (it has been way longer than usual)
i really like the whole idea and concept of that game. i will buy the full version as soon as you release it!
Despite the fact that this is a demo, I liked this game. Like would see different maps - for example streets among homes in a residential district, in warehouse district, on night market, in port and vast. You can do more and more obstacles-boxes, benches, other debris. Somewhere, even this could be a car. For levels can be done a series of conditions to to everyone was pegged any special thing. That is, passed the level-this thing can be purchased in the store. I would like to see more options of bondage - or hands bound, bondage and other devices (e.g. other varieties of gags, shoes, masks, corsets and stuff). While some of them can complicate the movement of the heroine.
I'm glad you like it :)
I'll do what I can to improve it!

And there will be other demos or now wait for the release of the full version of the game?
Since I'm changing a bunch of stuff (including the graphics) I will release a second demo.

And If all goes well I will release the full version along with that demo.
How soon will the second demo be released ?) And how much will the full version of the game cost?)
I'm not really sure when exactly the second demo will be out. But when I do I'll update the game page.
The price was 3 dollars (at first), which was reasonable for a low poly niche game like this one. But now that I am upgrading the quality of the graphics, I'm thinking of raising the price to 10 dollars maximum. Again I'll update the game page when my decision is final.

Nice work. Simple and charming. One idea I had was adding restraints for the legs that would give Normalin a hop animation that could impact the play in a few ways like slower distance progression to the finish line, when you hit an obstacle it causes the van to get closer than it usually would, and perhaps slower left/right speed but 2x the reward as a bonus like the mask.

Thanks! I was thinking of adding leg bindings anyway, they only make sense in this kind of game ;)

I tried running the game with both 64bit and 32bit windows but before it would finish loading, I got the image of her running with a big red exclamation point then the whole program closed. Any ideas? I did not get any errors or anything. Just the "Made with Unity" then crash
I'm not sure, I need a bit more information to help you. For starters can you upload a screen shot of that happening? (The thing with the big red exclamation point I mean)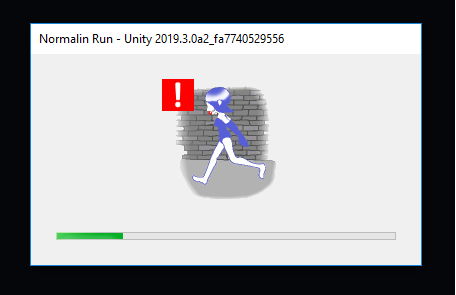 Thanks for answering back!

That dialogue box isn't supposed to appear when running the game. At least I haven't ever seen it when running any Unity game.
Based on what I read on several forums, the problem is (probably) caused by an app called "Citrix Worspace". Here is a post explaining it in more detail and how to solve the problem (https://support.paradoxplaza.com/hc/en-us/articles/360019138814-Citrix-Workspace...)
If you do not have this app installed, let me know so that I can investigate further.

I do not have that app installed.
Does it work when you run it on a different machine?

Very nice little runner game! I didn't know that a game like this would be something that I would like to play, but little did I know that I'm actually really into this concept! The demo is coming along nicely, if the full version is anything like the demo, It'll be a day 1 buy from me. The only things I can think that could be improved would be that the graphics, while quite charming, are a bit grading when repeated so often, so perhaps a bit of variety in environments and obstacles would be useful, and maybe an additional movement option, such as a jump or a crouch, just to vary up the action a bit. The choice of a shop item making the game harder, yet more rewarding is quite fun, perhaps it could be expanded upon in more ways, such as leg bindings that make you move more slowly when strafing, or arm bindings that reduce your safe zone, making you get caught on obstacles? I dunno, just some food for thought.
regardless, super fun little time waster game, would buy the full version in a heartbeat.
Glad you like the concept! And thanks for the suggestions. I'll see what I can do to make the main game less repetitive and more fun for the next version.